Select A language from the drop down menu
Serving The Reno and Sparks Nevada
Real Estate Markets
---
Thank you for visiting my site.

Please bookmark it, and visit it often. I look forward to hearing from you soon. You can view all current listings that other real estate agents see and you don't need to sign in. My site only has listings that are currently available, not like other sites that show you listings that are under contract or have already sold.
Quick search options for finding a home in
Reno or Sparks Nevada
The links will guide you to information that will help answer your questions concerning available Reno and Sparks MLS LISTINGS, Real Estate, Foreclosures, Short Sales

and community issues. This website is a useful tool, but I invite you to

call me for personal, one-on-one help

(775-412-7797)

with what some say is the biggest decision you will make in your life. If you have any questions, please don't hesitate to call or email me.

I can assist you with information on how to avoid possible foreclosure, help in securing a bank owned property or help you through the complex issue of a short sale. Remember, most of my services are free, whether you need to speak about foreclosure, short sale or if you just need a current market analysis.

You can search for a specific community by selecting a
neighborhood
from the left side of this page.
Once you have made a search, you can save the results for later viewing,
click here to learn more
.
Buying a SPARKS OR RENO Home?

I'll take the time to listen to your needs and desires, and find your dream home or condo. Your total satisfaction is my number one priority. In this market there are deals, let me provide my expertise in short sales negotiations, or finding a bank owned property. If you are a first time home buyer or an old pro, you may want to view my Home Buyers Handbook before you buy.
Selling a Home in SPARKS OR RENO?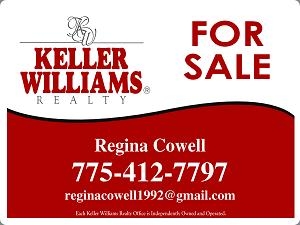 I will get your home sold for top dollar and in a timely manner. Our online and offline marketing programs will give you the edge you need to sell your home. I don't want to just list your home. I want to sell it
Fast

and at the right price
in today's real estate market. There are ways to avoid foreclosure and bankruptcy, please call me for assistance. Read why you should use me, My Marketing
Are You Relocating to Nevada?


If you are moving to the Sparks or Reno area, I can assist you in collecting the information you need, and make your transition as smooth as possible. Feel free to contact me for home finding assistance and area information. For an overview of the Sparks area, Click Here or watch the City of Sparks video information. For more information about Reno, click here. or you can watch several videos of Reno. Check out the local area links page on the left side of this page for internet links to additional information you can use.
If you are planning on relocating, view a
Reno/Sparks relocation guide
for more information. This is a large document and it will take a few minutes to open.
My Mission
I have built a reputation for client satisfaction, and I am devoted to making your home search as easy as possible. My husband and I were in the military for 21 years and WE made several moves of our own, so we know what it is like to relocate. You will have the added benefit of working with an agent who understands your needs when buying, selling, or relocating in the
Sparks, Nevada
area. Finding the right home is only the beginning. I will assist you every step of the way to ensure smooth sailing.
Sincerely,


Regina Cowell, REALTOR® "always satisfying your real estate needs"


To Find out about local home prices and trends, watch the current "To The Point" real estate market report below from The Reno/Sparks Association of Realtors note: these reports change monthly. To view previous months, click on the advance arrow in the lower left corner of the video.

Real Estate Market Reports
" To The Point" This Month In Real Estate

to view past Sparks Nevada real estate market reports, Click Here


You can also view my listings on
REALTOR.COM